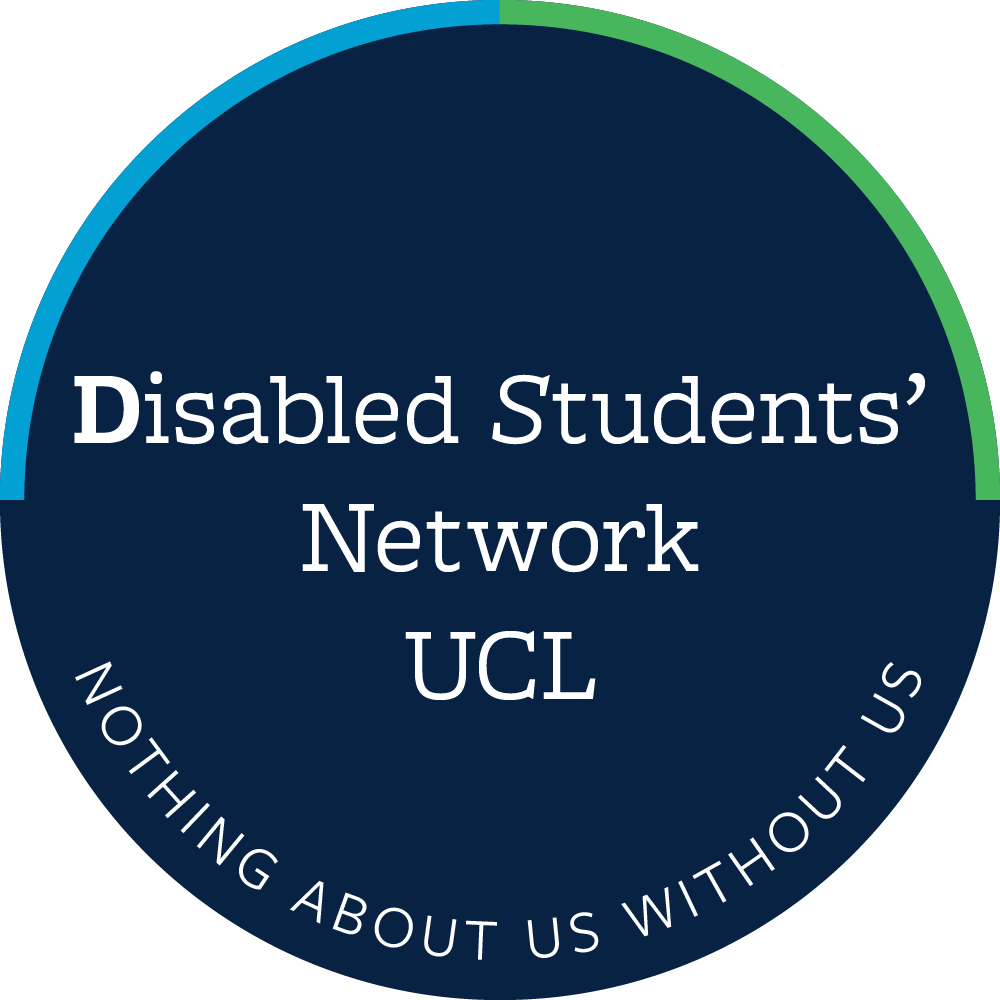 Students with Disabilities
Our Network promotes the interests and needs of students who identify as disabled, including those with learning difficulties, mental health issues or long-term illness.
What is the network?
This network is a collective which aims to represent the views of students' at UCL who self-define as disabled, including but not limited to students with physical disabilities, long term illnesses, specific learning difficulties and mental health issues. 
The Network is chaired by an elected part time volunteer known as the Disabled Students' Officer. Our Disabled Student Officer this year is Zohar Mendzelevski-Steinberg.
We hold meetings, events and run campaigns, like the one in the video below.
The Network is not a service provision for disabled students, that is provided by UCL Student Disability Services.
 
Who is the Disabled Students' Officer?
The Disabled Students' Officer is an elected representative who attends Union council meetings and voices the concerns of disabled students to UCL and the Union. They are supported by union staff and full time officers that help to organise events and campaigns. The Network is tasked with making sure that UCL and the Students' Union are working hard to ensure that all students have access to its activities and services. 
 
Your current Disability Students' Officer 
Hi I'm Zohar, I study Molecular Biology and I have an autoimmune illness. This year I'm excited to be serving as your Disabled Students' Officer. I and the DSN committee are focusing on activism and community building this year, with the following key areas of interest:
Make sure that departments respect your rights and your SORA
Campaign for increased mental health funding and more accessible facilities
Make the accessible accommodation discount scheme available to all disabled students in halls
Increase the visibility & presence of DSN by holding more social events, starting a social media campaign and supporting members' projects
I believe that solidarity has a real impact on our lives as disabled people, and I want to build a stronger community where disabled students feel supported and empowered.
If you would like to talk about issues you're having as a disabled student, discuss campaign ideas or comment with any other thoughts, please do get in touch with me at [email protected]
How can I get more involved?
There are regular section meetings that take place once a month during term time which offer you a forum to talk about your experiences. The dates and themes for each forum can but found in the What's On section below.
You can find information about all our events on the What's On Calender
Useful services and links
To find detailed access information about the UCL buildings and other public spaces you can use the DisabledGo service. UCL is committed to making its facilities accessible and inclusive to all its users and has surveyed the campus to help individuals be as independent as possible.   
We are a partner of the Stammering Through University Campaign (STUC) . Working with them closely to improve the experiences of students who stutter and stammer at UCL.
Inclusive London is a great website to help you find out more about accessible spaces/places in London.  
Guide to making your events more accessible
Contact information

The Disabled Student officer is Zohar Mendzelevski-Steinberg, they are available for a meeting if you have any questions or concerns, and can be contacted directly.

Facebook page    Facebook group 
If you wish to contact an individual committee member, their contact details for 2019/20 are:
Disabled Students' Officer: Zohar Mendzelevski-Steinberg, [email protected] 
Campaigns Officer: Mette Westander
Communications Officer: Giulia Dissegna
Web Officer: Abigail Smith
Disabled Women's Representative: Pascale Gourlay
International Disabled Students' Representative: Msafiri Msedi    
LGBT+ Disabled Students' Representative: Hester Mifsud
Please note: the 2020/21 committee members will take up their roles in the new academic year.