When to Look
You cannot normally arrange accommodation more than 4-6 weeks in advance so most students look for private rented accommodation in August and September. If you are thinking of private Halls, you may need to look earlier.
Where to Look
Deciding where to live in London can be a challenge. You might need to think about balancing an affordable rent with travel time and costs.
To help, here is a map of the average weekly rent across London: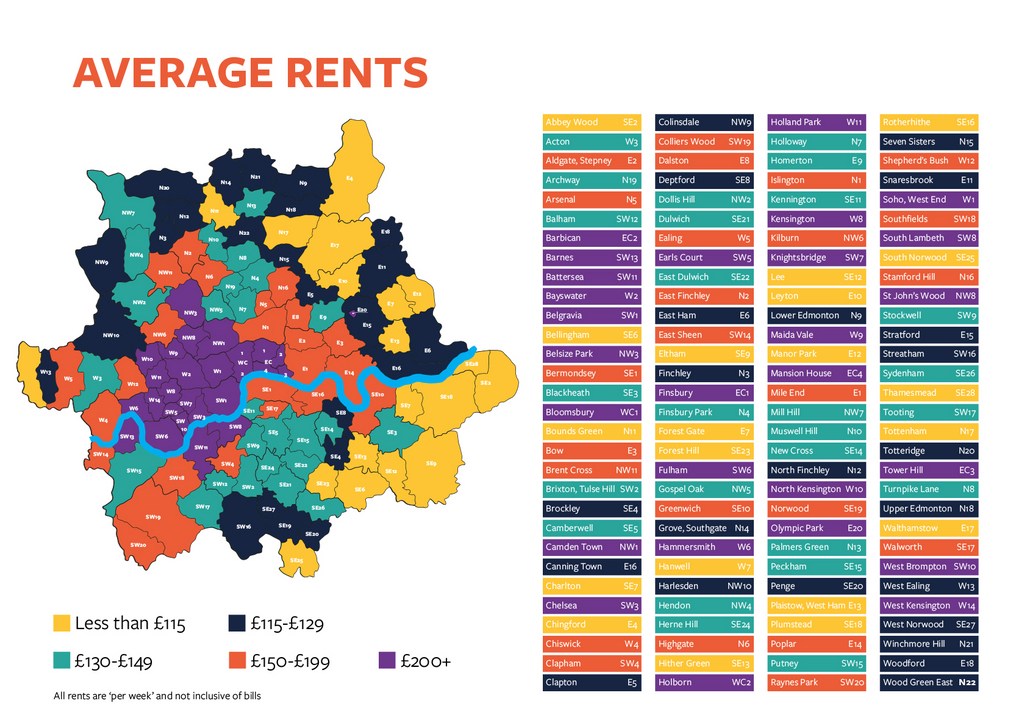 If you're 18 or over, a student and living in a London borough, you can get discounted travel with an Oyster photocard. This offers a 30% discount on the standard adult-rate Travelcards and Bus & Tram season tickets (the discount doesn't apply to pay-as-you-go Oyster travel). You can find out more information and apply on the TfL website.
You can also check price caps and Travelcard prices between zones by passenger type, which can be helpful to compare the total cost of rent and travel between inner-London and outer-London areas.
Another way to reduce your travel costs is to add a 16-25 Railcard or 26-30 Railcard to your 18+ Student Oyster photocard to travel on the Tube, London Overground, TfL Rail and most National Rail services in London. This can save you 34% on pay-as-you-go off-peak fares and daily caps.
1. University of London Housing Services
UCL is a member of University of London Housing Services, who offer a comprehensive service to all University of London students. They have a range of properties that they rent out themselves, including a number of registered independent halls of residence. They have a database of accommodation which is regularly updated on their website and they also have a list of registered letting agents.
They also publish a very useful booklet – London Student Housing Guide (pdf version)  - which covers all aspects of finding and living in private rented accommodation. University of London Housing Services  offer a comprehensive service to all University of London, including UCL, students. 
You can find more information on the University of London Housing Services website. You can also contact them by email to [email protected] or by telephone on 020 7862 8880.
2. Stay with UCL
UCL Student Accommodation office is open for enquiries about UCL student housing from 9:00 to 17:00 Monday to Friday.
You can find more information on the UCL Accommodation website. You can also contact them by email to [email protected] or by telephone on 020 7679 6322.
3. Letting Agents / Accommodation Agencies
Many properties are rented through agencies, so you get a bigger choice BUT some agencies are better than others. It is worth checking whether the agency is a member of a professional body. You can check this on the following websites (these are the most reputable):
You can also use one of the University of London Housing Services' registered letting agencies. 
Many agencies also advertise through websites and local papers.
If a landlord is accredited with the London Landlord Accreditation Scheme (LLAS) , they can display the logo and this is evidence of good quality accommodation.
4. Private Halls of Residence
A lot of postgraduate and undergraduate students will find accommodation in private halls. UCL works with several different organisations to offer private accommodation to students living in London. Private halls can vary but most rooms are en-suite with shared kitchen facilities. Private halls will also have common rooms, study spaces and are a good way of meeting new students. One thing to note is that overall costs of living in private halls tend to be higher than shared accommodation.  
UCL have two recommended private halls of residence providers:
There are also other providers across London, such as:
Camden Federation of Private Tenants
You may also be interested to know of the Camden Federation of Private Tenants  who work to improve the housing conditions of private tenants in the London Borough of Camden, by working with and supporting them to organise and campaign for better protection, rights and services. They also signpost people to advice agencies, and provide information, support and basic advice on a wide variety of tenancy-related issues. 
Rental Fraud 
Lots of students looking for somewhere to live whilst at university are commonly victims of rental fraud. Between 1 April 2014 and 31 March 2018, victims reported losing a total of £22,103,940 to rental fraud - an average of £1,396 per victim. 
How does it work? 
Scammers target students online who are looking for somewhere to live. Scammers will advertise rooms or homes to rent on free advertising websites and social media platforms such as Facebook. They then ask students to pay a holding deposit before viewing a property. Once the money has been paid, the fraudsters become uncontactable, leaving the students out of pocket and urgently needing somewhere new to live.  
How to avoid getting scammed 
If you think you have been a victim of rental fraud, then report this to Action Fraud, the national fraud and cyber-crime reporting centre. You can report the fraud online or you can call them on 0300 123 2040. 
Homelessness 
If you are currently homeless, or at risk of becoming homeless, then there is help available:
The housing charity Shelter have lots of useful information about options available. They also have an emergency helpline you can call.
Your local council may have a legal duty to help you with finding accommodation, if you are eligible. Shelter have information on this.
You can also contact the Advice Service.
We can discuss your options with you, signpost you to relevant sources of support, and can refer you into an emergency accommodation process at UCL if you're eligible