Aidan Roberts; Wall Climbing
I'm Aidan, a first year Mathematician recently moved to London from the Lake District. Growing up in the countryside introduced me to climbing, more specifically the discipline of bouldering. I have been competing for about 5 years now, 4 of which have been international competitions for team GB.
Balancing the dynamic of training and studying is a challenge and requires a lot of discipline. Initially it was a little overwhelming but I feel I have now developed a healthy balance between the two and enjoy the routine of it. Despite this I feel that my social life may suffer from the time dedicated to training and the need for a healthy sleep pattern. However for the few moments of satisfaction it's all worth it in the end. The competition season does clash with exams so it will be interesting to see how the two work when I get to it.
I train 6 days a week with sessions in the morning and afternoon on 3 of those days. This usually averages around 25 hours a week. However this changes up as I now transition into competition season as some more rest is required.
It's hard to say my greatest achievement. I think it was either in the youth competitions where I was able to become Britain's first European Bouldering Champion and obtain a world ranking of 3rd. However, since transitioning to the Senior competitions I was able to make Semi-finals and rank 18th in the Senior Bouldering World cup in Vail, Colorado. I have only had one season competing in the Senior competitions so excited to see what I can do this year. I hope to make Semi-finals more consistently this year and obtain a top 10 ranking in a world cup. 
I have found the elite athlete programme useful. They have been very supportive and allowed me to use some slightly alternative training tools specific for climbing in the Bloomsbury Fitness Gym whilst also making efforts to install climbing specific training apparatus. I look forward to working with them for the rest of the year!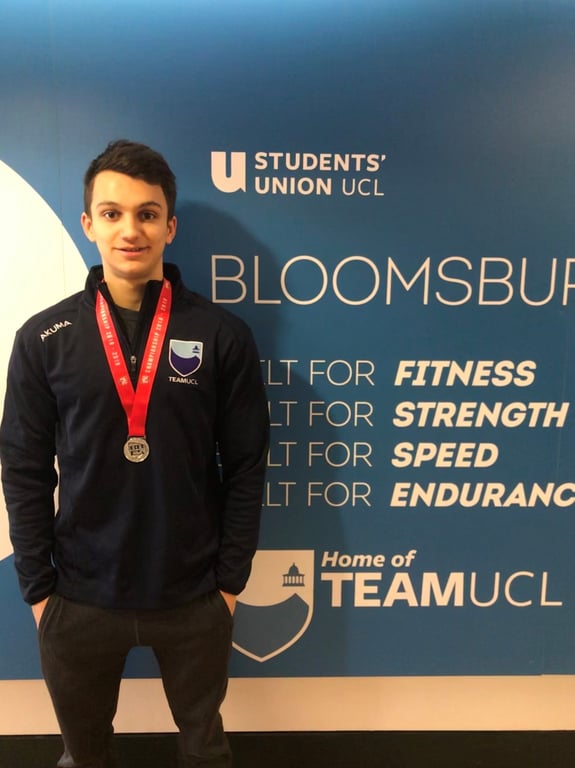 Aidan with his 2019 BUCS silver medal!