Little trivia fact for you - Varsity is short for University... yeah we were just as mindblown. Nowadays the word comes to relate to the sporting matches between two rival teams. In this case, King's College and UCL - together they compete in the London Varsity Series.
London Varsity Series
After a successful four years of winning Varsity, the chance to reclaim what's ours is back. From 16 March till 20 March, the pitches and fields will be full of red and purple as students from King's College and UCL come together to support the game, their team and their university. Tickets are on sale now, so come along and feel the rush of the crowd, sing the chants and celebrate the highs and lows.
A quick history lesson...
You may be familiar with the King's vs UCL rivalry now, but how did it all start?
Phineas, our previous mascot, was borrowed by a UCL student from outside a shop on Tottenham Court Road in 1900. In 1932, the shop donated the statue to UCL for good. Kings, on the other hand, originally chose a beer bottle as their mascot - but decided to change to Reggie the Lion in 1922.
In 1922, King's were feeling sore after a rugby defeat and plotted their revenge: they kidnapped Phineas. Phineas was locked away at the Strand and protected by secret defences. But UCL had an extensive network of spies within King's and made their move to liberate him. After more than an hour of combat (and a visit from the Police), an armistice was arranged and Phineas was returned to UCL, minus an arm that had been broken off in the battle.
Years of rivalry followed, with multiple kidnappings of UCL's and Kings' respective mascots. Incidents ranged from Phineas being kidnapped and locked away at the Strand to Reggie being buried on Hampstead Heath. Over the years, the mascot abuse stopped, with a notable intermission in 1989 when King's students went off-piste and stole Jeremy Bentham's head and played football with it (cue a formal complaint from UCL and threats of expulsions and fines).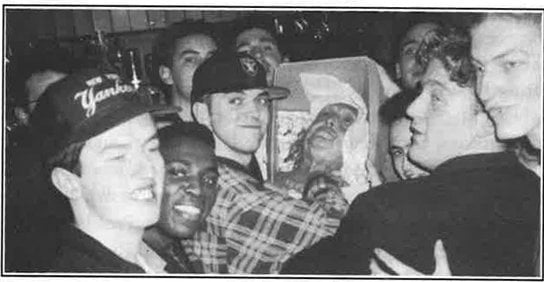 A sporting bonanza
London Varsity started out as a game held at the end of the University Rugby season, but recently the games have become much more than that. Incorporating about 20 other sports since 2014, the games have really taken a life of their own. You can see the full list of fixtures here.
To end the London Varsity Series we've got Rugby at Richmond Athletic Ground, which you can also watch on live broadcast before heading to our after party at Scala.
What if I'm not that into sports?
That's ok! The London Varsity Series still promises a great day out even if you don't know your puck from your épée. The vibe of fellow students (and rivals) cheering on their team is worth going for - so don't let your lack of sporting terms of knowledge put you off.
Show your support and get your TeamUCL and Varsity fan kit in The Hanger. The new Varsity T shirt has hit the shop floor and can be yours for only £7.50, alongside a TeamUCL scarf or even a bundle for our most loyal supporters.