Written by Sandy Ogundele, Black and Minority Ethnic Students' Officer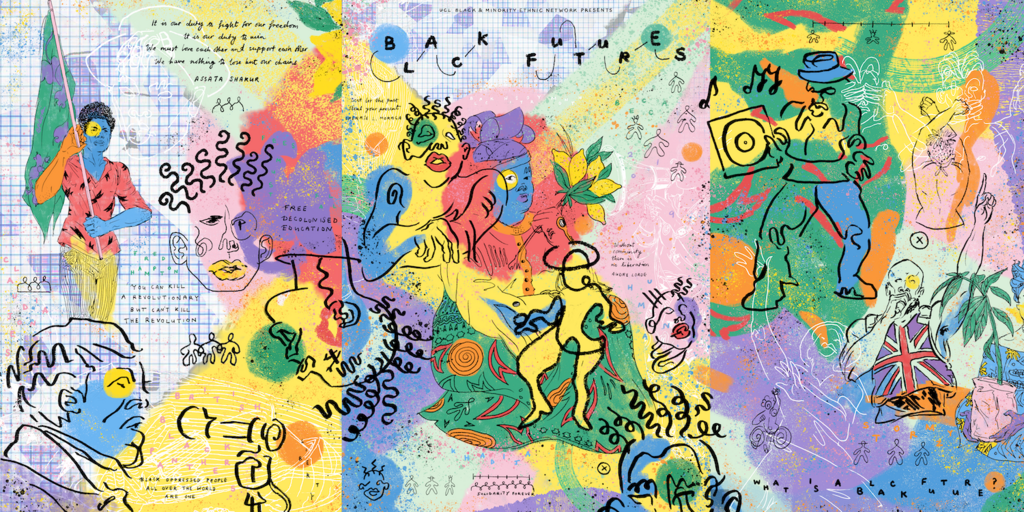 This wonderful piece of artwork by Becca Human was commissioned by us for Black History Month. As you might see, there's a lot of different figures and quotes in the artwork, all having some significance in Black history and culture. Read through to see why I've chosen these amazing people from history and why the quotes still hold such significance. 
The quotes explained:
Without community, there is no liberation
- Audre Loudre, 'Uses of Anger: Women Responding to Racism', 1981 
This quote is from the amazing Audre Loudre, a black, lesbian feminist writer. A woman who fits nearly every marginalised group in society. In 1981, Lorde gave a keynote presentation at the National Women's Studies Association Conference in Connecticut called  'Uses of Anger: Women Responding to Racism'. I read this piece every year because it's such a grounding and enlightening bit of writing, enlightening more so because of my role as BME Officer for the Union. She talks about fighting and using your anger in a productive way rather than as a catalyst for destruction and I really hold true to that value. As Lorde says later on in her speech, the idea of a symphony (people singing and acting together) rather than a cacophony (singular, individual voices) is something that's integral to my role as BME Officer. Without an orchestrated fury, of us all coming together and taking action together, we won't achieve what we want to achieve, especially if we're talking about liberation politics, we won't be liberated. If we're a lone voice, we will be speaking in a sea of lone voices. We are better and stronger together. 
When I was having a particularly hard time at university, I feel like Lourde's speech opened me up to talk about my problems, to speak to people and to know that it's okay to be angry. Ultimately, it questioned me (in a good way) to find solutions, to question myself and see what I was going to do with that anger and frustration. 
Don't let the past steal your present. 
- Cherrie Moraga, 'The Bridge Called My Back', 1981
Cherrie Moraga is a Latin-American feminist and poet. This quote sums up what I'm trying to portray with this Black History Month with the Black Futures movement. Our past is so important in informing our present and our future. The place you grew up in, the people you grew up with, the culture you were embedded in - all of this has an effect on the person you are today and the person you will become. 
For me this quote reminds me that even if bad things have happened and are happening, we shouldn't dwell on the past and think of those 'better times'. Or even if things right now aren't as good as they were in your fast, don't dwell on the past. For me this is a reminder to remember what is happening now, not to ignore the past, but to not let it overcome or stop you achieving what you're doing right now. 
It is our duty to fight for our freedom, 

it is our duty to win. 

We must love and support one another. 

We have nothing to lose but our chains.
- Assata Shakur, Assata: An Autobiography, 1988
An emotional quote, beautiful quote that came out of the civil rights movement in America and centered around themes of people getting together and working together, ignoring petty differences, because the stakes are so high. I really related to the idea that we must love and support one another, to be empathetic and connect with each other in any work related to anti-racism or any work of justice at all. Deciding to be the BME Officer comes from a deep love and empathy for people that I might not even know. In my job as BME Officer, I don't just work for BME students, I work for all students and so it highlights the importance of working across difference, of working with everyone. We need everyone on board to make the changes needed. 
Black oppressed people all over the world are one
- Writer unknown, Banner from the British Panthers, 1969 - 1973
This banner is from The Black People's Day of Action, a peaceful protest in response to the New Cross Fire. In 1981, 13 children were killed in a fire during a house party. The police only investigated the incident as an accident and didn't look into any other causes, like racism. They didn't want to look at racism as a factor for the fire. Black People's Day of Action was in response to the lack of action taken by the police. 20,000 people marched from New Cross to Hyde Park (which took them 8 hours!) to fight for justice. To me this shows the idea of community and that we can achieve so much if we work together. 
The pictures explained:
Khadija Saye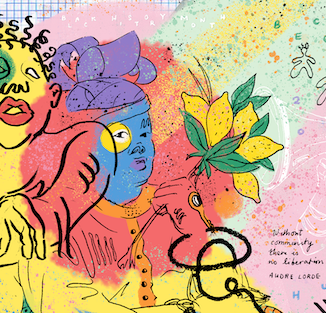 The woman right in the middle, blue face, holding a plant is Khadija Saye, a black Somali artist who died in the Grenfell fire. We wanted to create a rendition of one of her art pieces and give credit to this amazing artist.
"Fees must fall"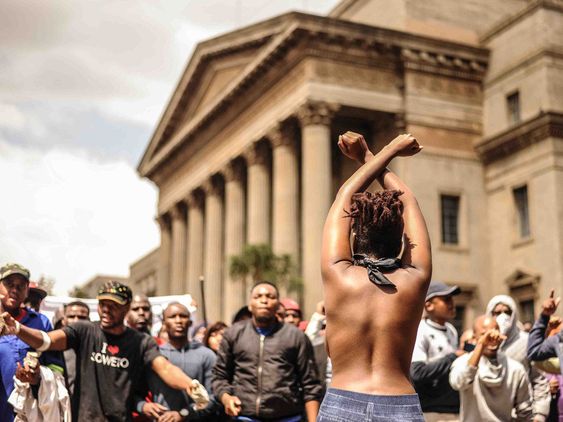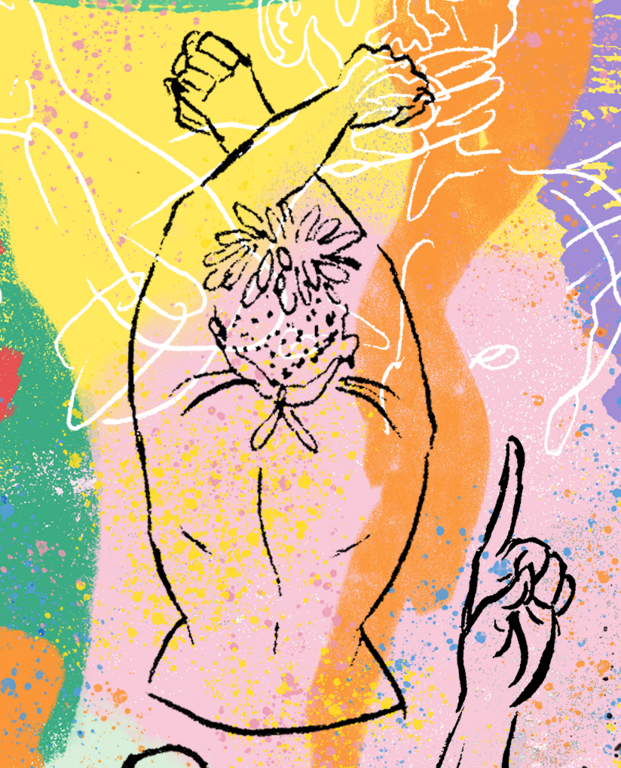 Top right, there's a woman with her hands crossed. This is an image from "Fees must fall" -  a South African student movement protesting against colonial legacies in South African universities. The movement highlighted the fact that even after everything that has happened in South Africa, there are still so many inequalities existing within the educational system. Only a small percent of Black students go to university in South Africa, and at the time of the movement, only a small amount had access to university, namely because of the amount of money it cost to get further education. 
Wangari Maathai - the tree mother of Africa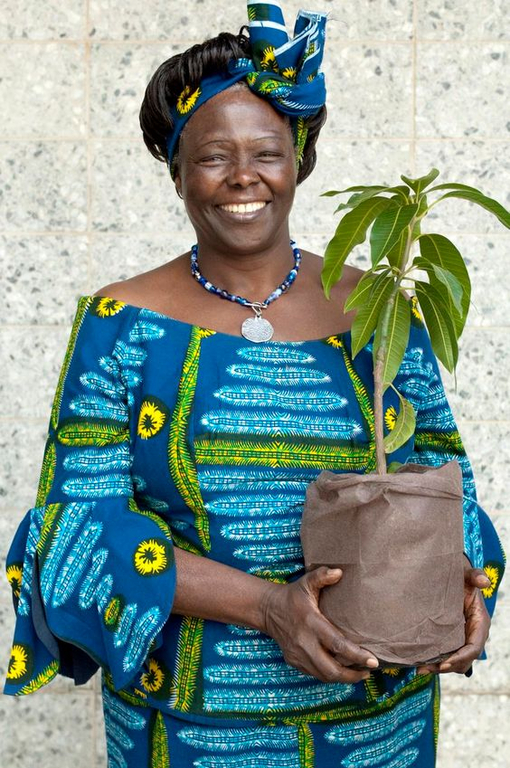 In the bottom right-hand corner is Wangari Maathai, the tree mother of Africa. She's a leading eco-feminist in the world but is a name that is often missed out when talking about environmental issues in this country. She was the first African woman to win the Nobel Prize and is an environmentalist and political activist. I chose Wangari because environmental causes aren't something that just affects us in the UK, it's a thing that affects people globally. It also shows that people outside of the Western World have been activists on this stage for a lot longer than we thought. Maathai has been campaigning since the 1970s! 
She founded the Green Belt Movement in Kenya which focused on planting trees, environmental issues and women's rights. Since the beginning of the movement in 1977, over 50million trees have been planted and 30,000 women have been trained in forestry, food processing and beekeeping. 
To draw on the work by Maathai, every year we do this event: My Neighbourhood is Killing Me, and we talk about environmental justice issues that exist within the UK and across the world. 
Sound System Culture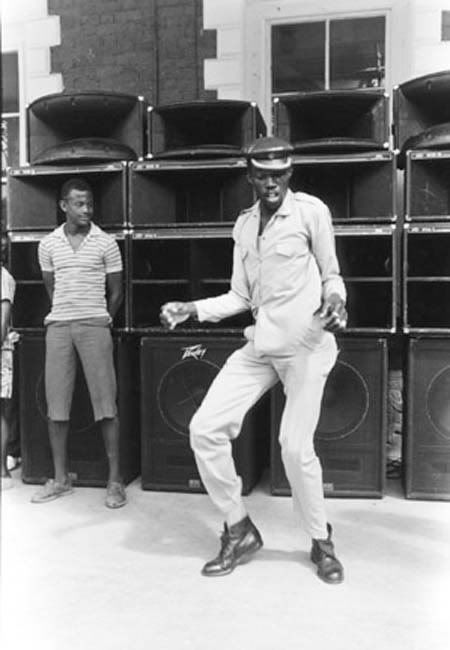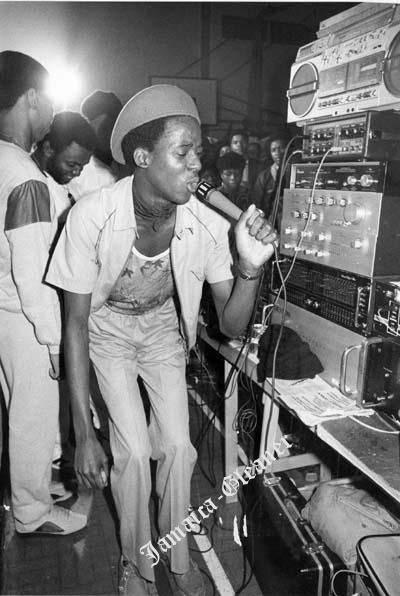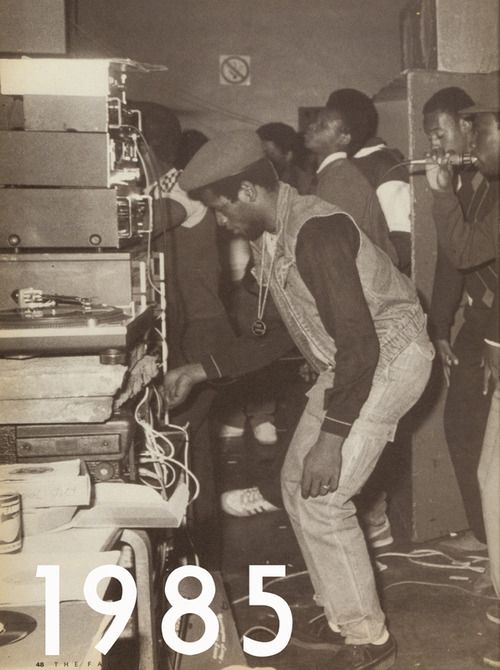 There's quite a few images of people dancing (namely the yellow image in the middle and the man on the right holding a sound system). These images are a nod to the Sound System Culture - when the Caribbean community, in particular, the Jamaican Community came to the UK, post-Windrush. A lot of them created what is called Sound System Culture, which was dominated by Reggae music. The Sound System Culture changed the music landscape - they had their own way of having parties and enjoying themselves. I found lots of images of block parties outside in the streets with big sound systems, which is represented in our BHM artwork. 
I think the Sound System Culture is important because of the way it changed the music landscape, because of the joys of community, and the ways in which music and dancing influences black culture - how music is a tool for liberation, a tool for happiness.
Stormzy at Glastonbury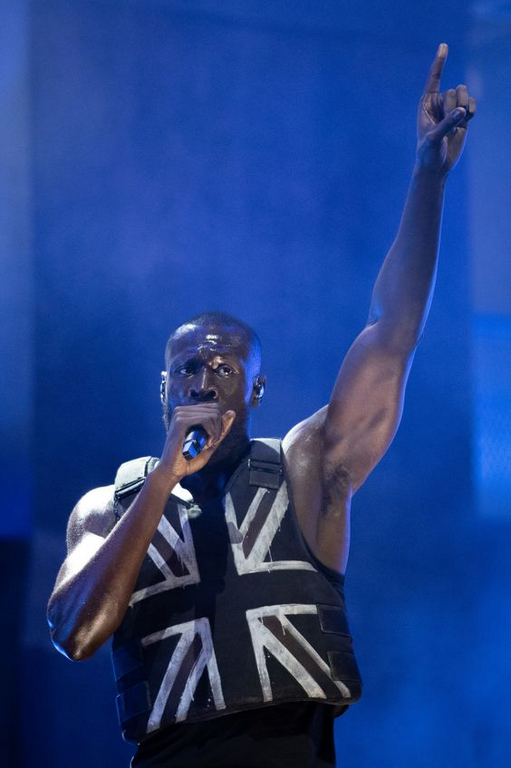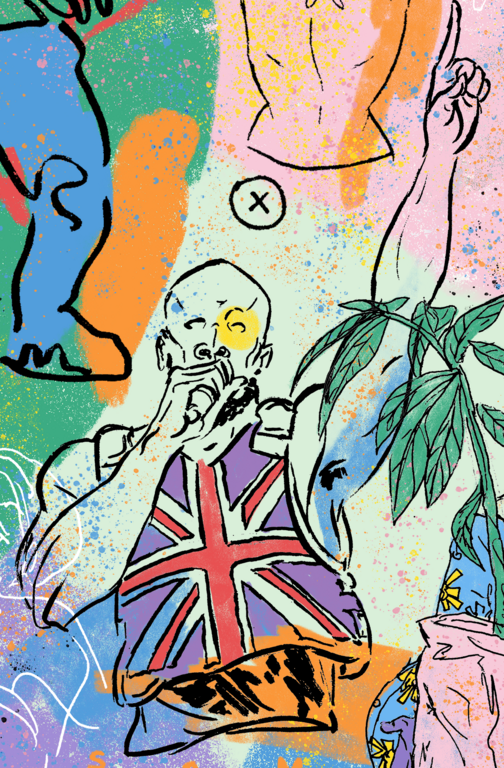 This is quite a polarising image (bottom right) because of what Stormzy said during the performance but it is amazing for the way it drew black culture into the spotlight. For the way Stormzy bought grime music into the forefront of popular culture for everyone to enjoy. 
Claudia Jones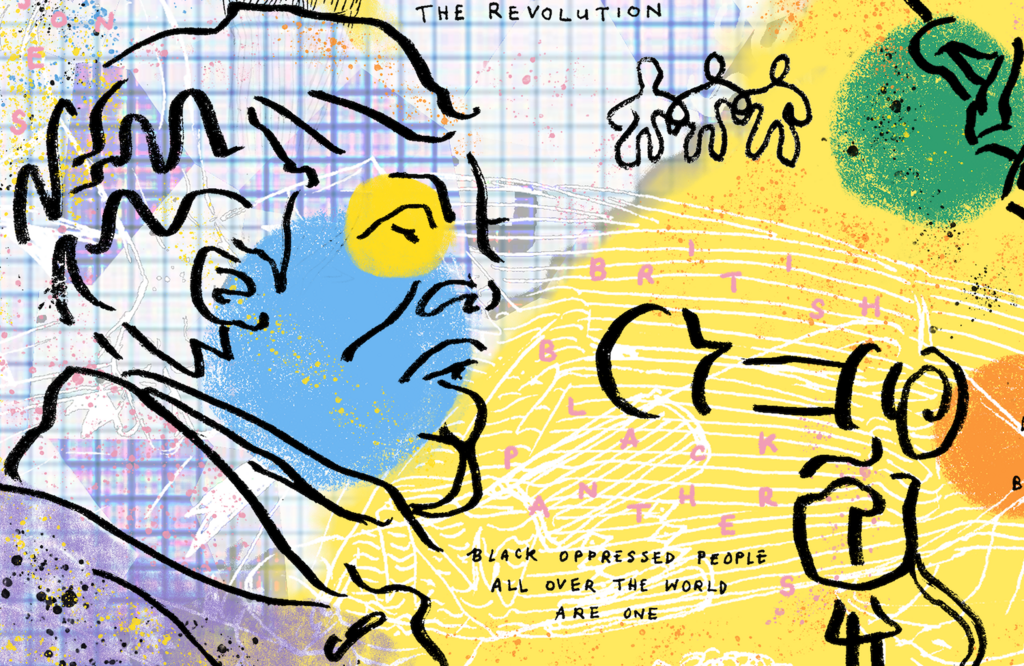 On the bottom left side is Claudia Jones, a British Black Panther. She is often left out of conversations related to Black Britishhood and political activism in the UK so I wanted to highlight her here. She founded the first major Black newspaper called the 'West Indian Gazette' in 1958. Helped create a strong black community in London because of her newspaper, highlighting the important things happening in the community while also giving a bit of political education. 
Black History Month: Black Futures
I chose the theme of Black Futures for this years Black History Month. Looking at our past will help inform our collective future. Asking us to look back and reflect on our collective history to determine for ourselves what our future looks like is what this Black History Month is about. 
"What we cannot imagine cannot come into being"
- bell hooks
Students!
We decided to leave some of the boards blank, because we wanted students to reflect on what they thought a Black or liberated future. Students added quotes, poems, affirmation and their hopes for the future. More sessions will be run throughout the year to fill them up.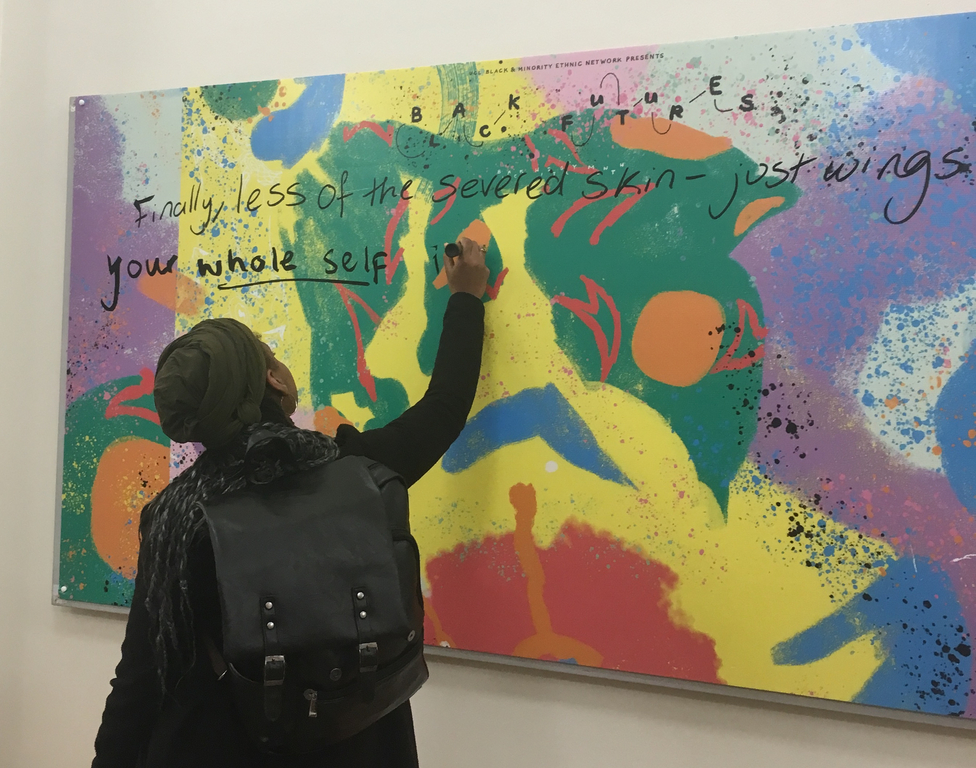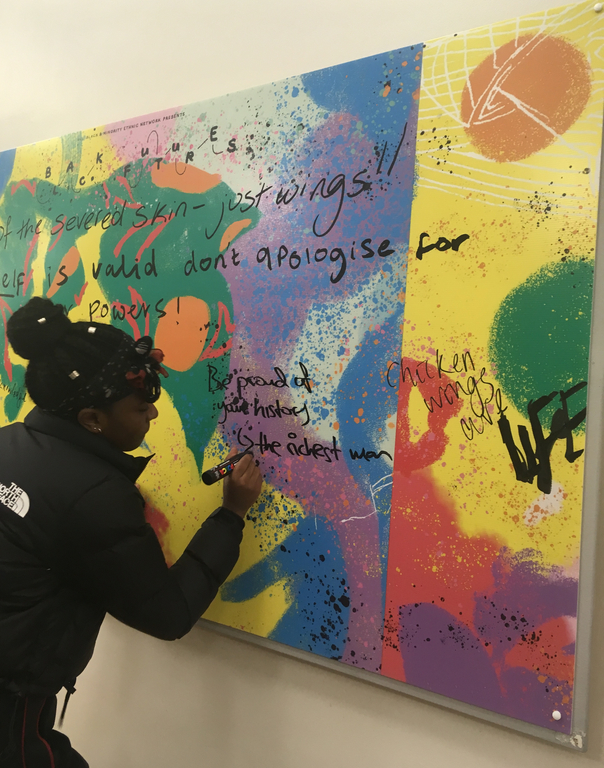 "I'm rooting for everyone BLACK"
"Empowering each other" "success"
"Black success shouldn't come as a surprise"
 "TRUE FREEDOM"
"Finally less severed skins - just wings"
"your whole self is valid, don't apologise for your powers"
"be proud of your history"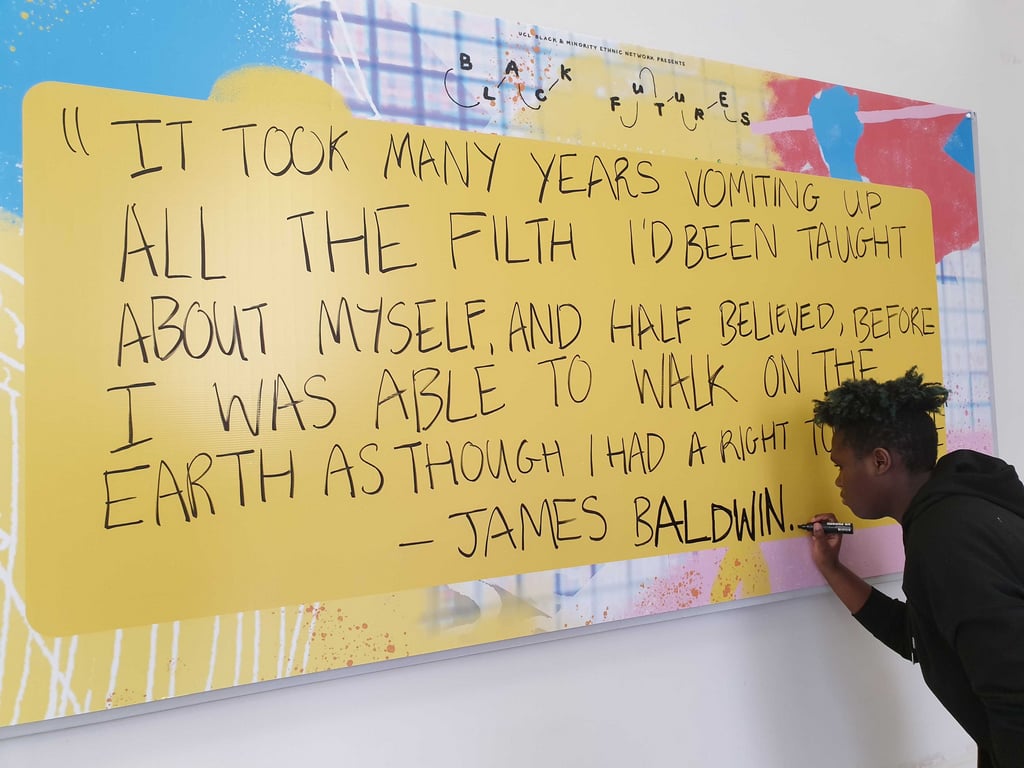 The image reads: "It took many years vomiting up all the filth I'd been taught about myself, and half believed, before I was able to walk on the Earth as though I had a right to be there" - James Baldwin
Look out for a longer piece on the live art on exhibition!