Since launching at UCL, The Active Bystander Programme has trained over 30,000 students and student staff, empowering them to identify and challenge poor behaviour to help create a safer and more inclusive environment. But how did we get here?
Zero Tolerance Project, 2015-2018
Aiming to eliminate experiences of sexual harassment at UCL, we launched our Zero Tolerance to Sexual Harassment Policy in 2012, followed by the Zero Tolerance to Sexual Harassment campaign in 2014.
This included the Zero Tolerance Pledge, signed by Presidents and Treasurers of Clubs & Societies, and later academic departments, to signal their commitment never to tolerate sexual harassment, and to always support students and staff who experience it. We also ran Zero Tolerance Workshops for new students for those who had signed the pledge.
The workshops aimed to empower students to recognise and respond to inappropriate behaviour if they witness it and to encourage them to take action, when safe and appropriate to do so. Over the next couple of years, we worked on making the programme more inclusive, interactive and practical.

In 2016, we worked with UCL's EDI team to plan staff training to complement student training and change the overall culture at UCL. In 2017, the Zero Tolerance Pledge became mandatory for Clubs & Societies.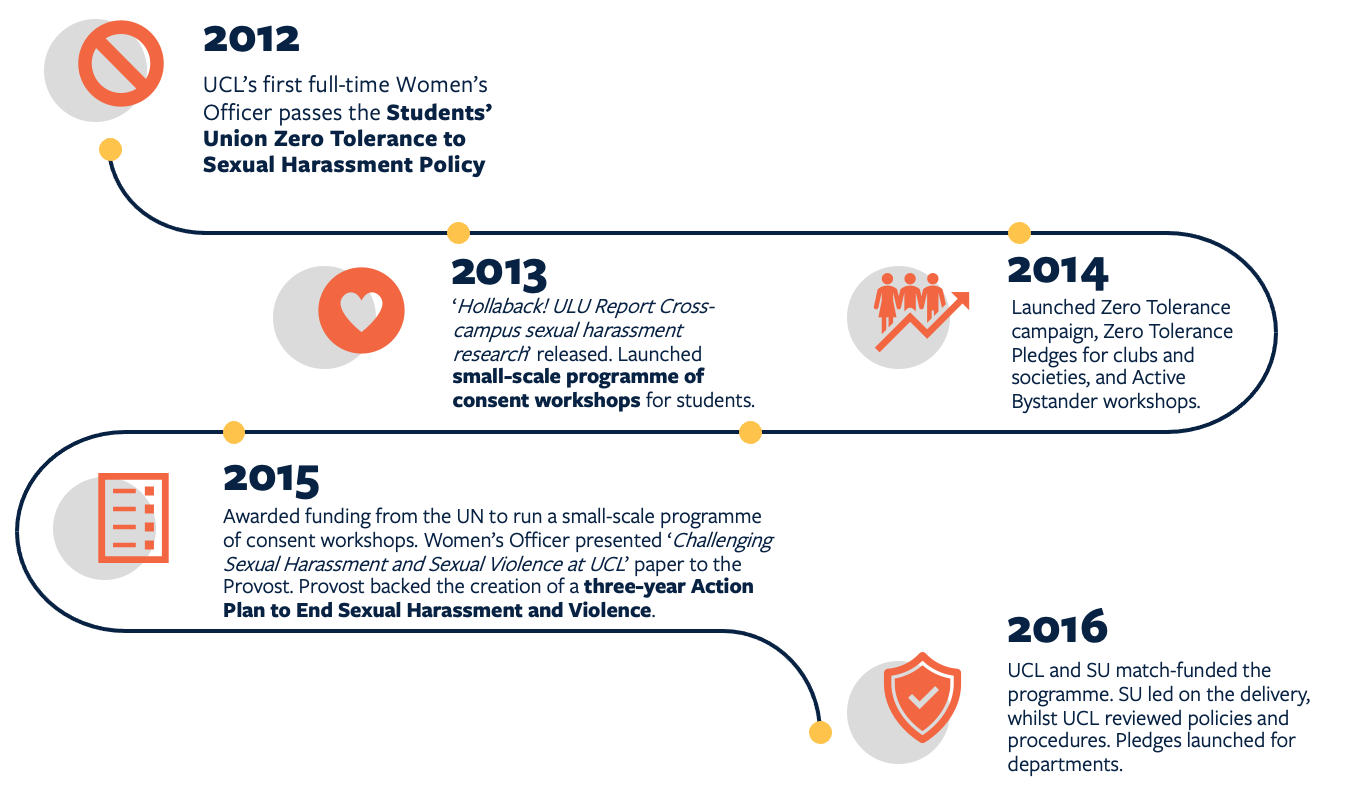 The Active Bystander Programme, 2019 – present
Following the success of the Zero Tolerance Project, Students' Union UCL sought to create a programme that addressed a greater range of issues faced by UCL students. The Zero Tolerance Project became the Active Bystander Programme.
The renewed vision of the programme moved from 'eliminating experiences of sexual misconduct at UCL', to:
'We will eliminate experiences of bullying, harassment and sexual misconduct at UCL'.
We wanted to move away from 'Zero Tolerance' language, and towards language around building inclusive communities through training. We also wanted to move towards making the training mandatory for all incoming students, and facilitate an online pre-arrival module that introduced students to the concepts of EDI.
The Active Bystander Programme became a core part of students' induction, aiming to ensure all students understand bullying, harassment, and sexual misconduct, and how to practically intervene if they witness or experience any of these unacceptable behaviours on campus or beyond. This programme involved an online module and a live in-person workshop.
Following the outbreak of the Covid-19 pandemic in 2020, the workshops moved online. This continued throughout 2021 and the beginning of 2022, with thousands of students participating in online Zoom workshops run by student Workshop Leaders.
By mid-2022 some workshops slowly transitioned back on campus and the programme began to train Students' Union staff, with unique training on bullying, harassment, and sexual misconduct in the workplace.
Over 30,000 students have completed Active Bystander Training since its conception, with workshops taking place in Bloomsbury, Canary Wharf, and Surrey campuses, alongside the two-year stint on Zoom!

The future
From September 2022, most workshops will take place on campus. Live in-person workshops will ensure all new students understand what constitutes bullying, harassment, and sexual misconduct, and how to safely intervene if they witness any of these behaviours.
We will continue to pursue the long standing aims of the Active Bystander Programme, namely:
To ensure all new and returning students are trained on the Active Bystander course
To ensure every student is aware about how to report any incident(s) that take place at UCL and/or remotely
To ensure every student feels comfortable to safely intervene in situations that include bullying, harassment and sexual misconduct
To deliver Active Bystander training to Students' Union clubs and societies as part of compulsory training
For students to feel safe during their time at UCL