We are delighted to have been shortlisted for BUCS Digital Engagement Award alongside King's College London, Loughborough University and University of Nottingham. This award recognises creative digital engagement that has supported students in the form of virtual challenges, digital events and other innovative online activity. Being shortlisted for this award recognises TeamUCL's excellence in digital marketing to improve awareness, engagement and participation across various domains.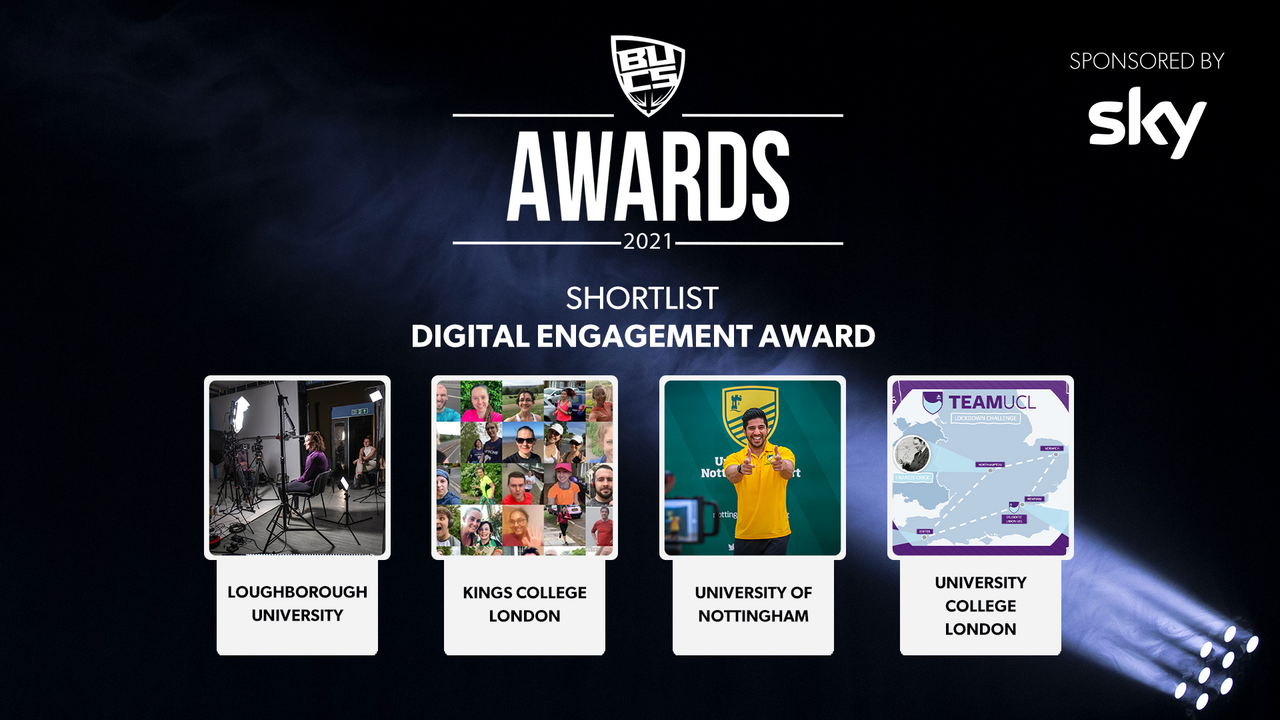 This past year has forced all organisations to adapt and overcome countless challenges, with the end result often requiring digital solutions. TeamUCL and our sports clubs have put in place initiatives that have kept students' sporting communities thriving even through adversity.
Providing Remote Access to Sports Clubs
Beginning in October 2020 Students' Union UCL transferred 'Welcome Week' into a bespoke online platform that has attracted 14,581 'attendees' since its launch. This was created alongside a live-streamed TV show that received 18,600 live viewers. Students were then able to join their sports clubs and communities via remote memberships meaning they still had access to club socials, events and training sessions (albeit in a completely different environment!). Clubs were innovative in their delivery of social events that ranged from quizzes to cook-a-longs alongside virtual strength and conditioning, skills based training sessions and dedicated time for welfare provision.
A total of 5696 students purchased over 10,000 sports club memberships this year!
Online Challenges
The second lockdown in Term 1 and continued restrictions have made it difficult for everyone this year. TeamUCL came together to keep students active and competitive by:
Creating 'fixtures' that allowed clubs to compete against each other across a variety of challenges in the form of 'lockdown leagues'.
Coordinating the TeamUCL Lockdown Challenge between January and March. Over 1000 students took part in this challenge and ran/cycled a cumulative total of 48,488km!
Designed and delivered This Girl Can Move, TeamUCL 100 Club, UCL Move for Mental Health Day, Active Halls Challenge, engaging a further 655 members.
In a time of lockdowns, social distancing, and grey weather, the UCL Move Challenge was one of the most precious gifts this year. It motivated me and my friends to stay active every single day. Overall, it was the perfect treat for our mental and physical health. A big thank you for organising this challenge, for the awesome prizes, and for making the week a little bit brighter every day.
Streamed Content
Making our activities accessible required up-scaling our technology in order to provide a high quality service. For example, our most popular Project Active sessions moved to free online classes that ran, on average, 12 times a week engaging 1309 different students.
"Project Active's online classes have been essential for my physical and mental health during lockdown... (the classes) have also helped to add a sense of routine to my life in lockdown. I have always struggled to find some kind of exercise that I really enjoy, but I really like the Zumba and Box HIIT classes. "
The London Varsity Series was also streamed live thanks to great support from the UCL Film & TV Society. The week saw 18 fixtures take place and resulted in a 10-8 win that came down to wire! The drama of the week was amplified due to the live-stream and commentary of 5 events that can be re-watched to this day.
The demands faced by University sport this year have been widespread and hugely challenging. The aim however was still to provide TeamUCL students with a sense of community and support network regardless of where they were in the world. We have tried to innovate and adapt in order to achieve this aim, and we feel that this shortlist is recognition of that. Thank you to all clubs and members who have engaged with all the digital content this year, and well done to everyone who has been a part of the online activity.