When running any event for your Club or Society, it is important to add it to the What's On calendar and advertise your event to your members.
Furthermore, under our current Covid-19 regulations, you must advertise all in-person events prior to the activity occurring on the What's On calendar, so staff can review your activities. 
You can add Club or Society events to the What's On Calendar yourself, as long as you are a Club/Society President or Treasurer.
Step 1
Head to the homepage of our website and go to the What's On Calendar.

Step 2
Click on 'Create event' in the top left hand corner to bring you to a webform.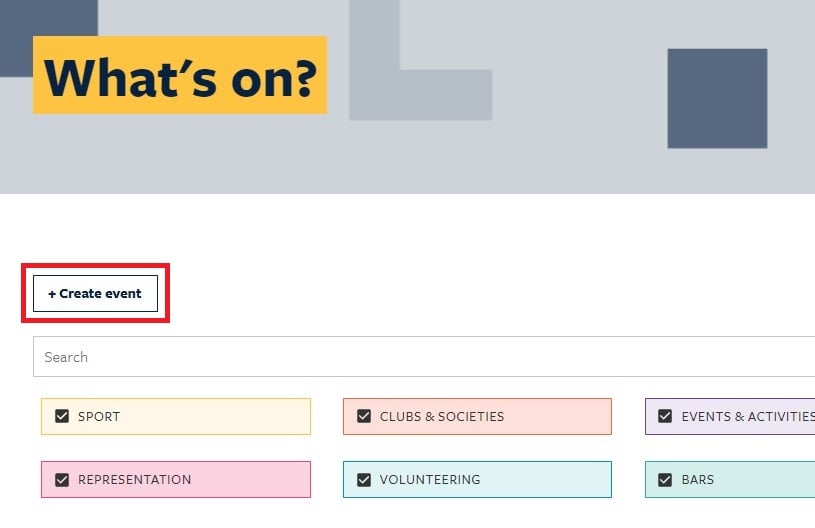 Step 3
Fill out the form with as much information as you can about your event, making sure you select your Club or Society to associate the event with. Read the descriptions for each field carefully.
When adding a venue, you can either select a pre-existing option, or choose to create a new venue. If your event is recurring, the next time you create an event you will be able to quickly select the new venue that you added.
There are a number of sections in the form that are not required and may feel unnecessary. Do not panic, it is perfectly fine to leave this sections blank. An example of this is the 'Access to event and sales' section - feel free to leave this blank!
For more information, see our full guide to creating an event.
Useful Links
If you want to sell tickets for your event, these can be linked to your What's On Calendar event page by submitting a Ticket Request Form. Remember to consult our full list of How To Guides for advice on running events.
If your event involves an External Speaker, a Budget over £350, or you're running an event which is Raising Money for Charity, you'll need to submit the relevant webforms to be approved before your tickets can go on sale.
If you need any help, feel free to email [email protected]
Knowledge base
Category
Organising Activities & Events