Saturday 17 November 2018
09.30

to

18.00
GoSustain is a multi-speaker, 'TED talk' style event to inspire people into a more sustainable lifestyle. Book your tickets now, this event is selling quickly!
Learn from our expert speakers, discover new opportunities and gaps in the market, gain inspiration for new business ideas and network with like-minded people and interesting new contacts at this exciting new event.
Find out:
+ FOOD: What is the importance of food sustainability? How do we grow our own organic food at home?
+ HOME: Do you believe it is possible to solve the affordable housing crisis in 2 years? We do.
+ BUSINESS: Sustainability is creating reams of new business opportunities. What are they and how can you get started?
+ TRANSPORT: Why is switching to an electric car a no-brainer? How can we conserve energy every day?
+ LIFESTYLE: Fitness-mad? How do you become the best version of you? Why should you wear organic clothing? What is it like to bring your baby up as a vegan?
After Party & Networking Event: from 19:00 onwards (included in ticket price).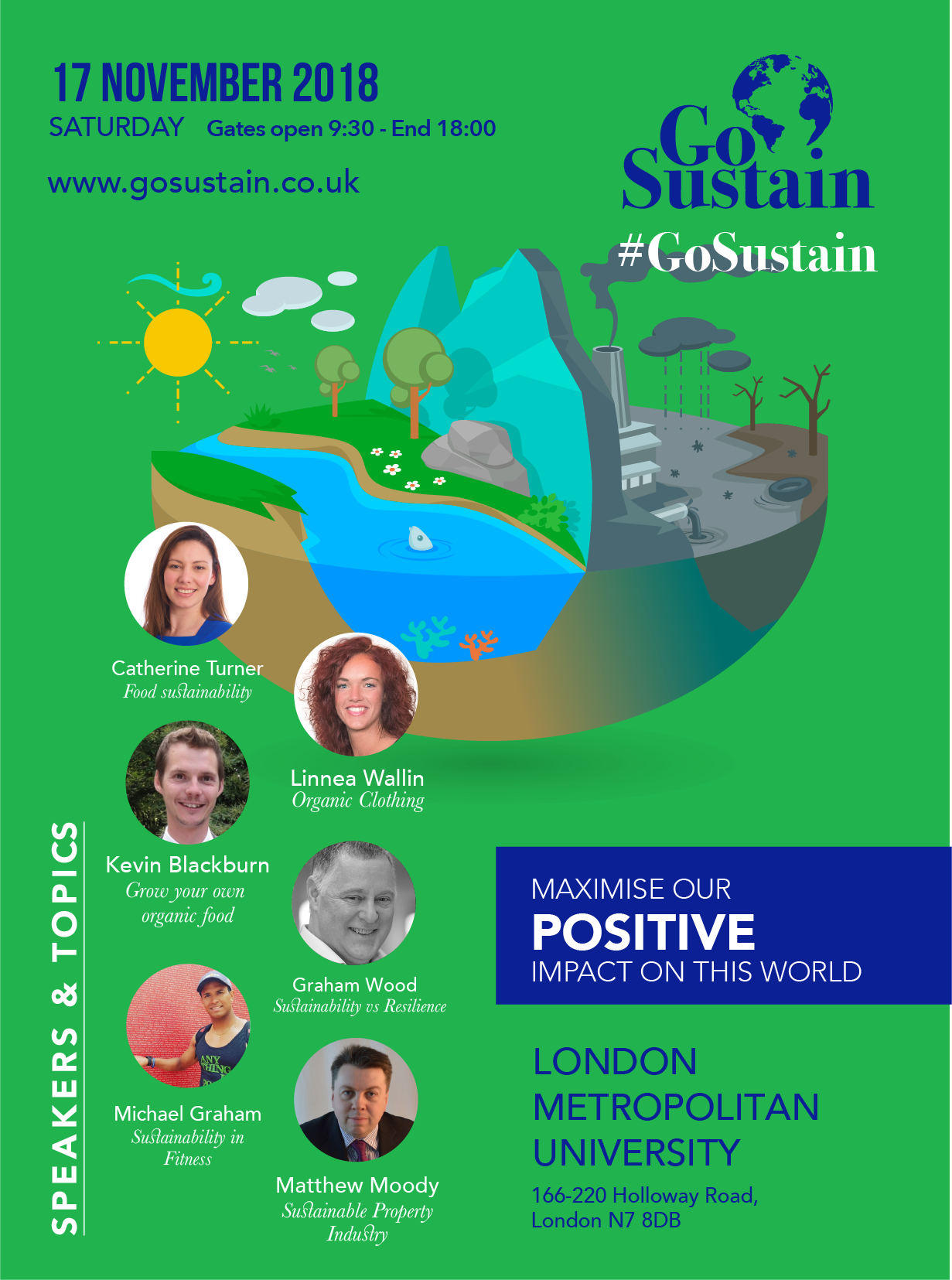 Speakers and topics:
**More information**
Speakers:
Linnea Wallin - [Organic Clothing] -
Linnea is the founder of 'LiWa Organic' a start-up promoting the use of clothes made from natural and organic fibers such as hemp, bamboo, and linen. We need more of these eco-friendly start-ups saving the world.
Michael Graham - [Fitness and wellbeing] -
Michael is an Ironman, entrepreneur and is a keen enthusiast in fitness, mindset development, and sustainability. He has run several marathons and has also been in the Olympics. He will be sharing the 8 golden steps required to become the best version of who you want to be!
Matthew Moody - [Sustainability in property] -
Matthew is a property entrepreneur, writer, public speaker who has spoken internationally to 1000+ audiences. Matthew has a keen interest in sustainable living spaces and has been making a significant difference in the property industry. He will be talking about how we can efficiently use rooftop spaces and lightweight plastics to make affordable living spaces that are environmentally friendly. Solve the housing problem in this country and also promoting sustainable concepts.
Graham Wood - [Sustainability vs Resilience ]
How to make a smooth transition into a more resilient lifestyle and it's importance. The aim is to live in a regenerative environment (MORE than just sustaining, going further and THRIVING) people, planet, and profit must be balanced
Lucie Eleanor Stone - [Low waste lifestyle]

Lucie is a food & lifestyle photographer living in London who lives a low waste lifestyle. She keeps her none recyclable trash and photographs it at the end of each month, creating only a handful of waste. She will be speaking about how to create less trash in everyday life and whilst traveling. 
Paul Watts - [Electric cars - no-brainer]
Paul is going to be talking about why you need to think about switching to electric cars and it's immense benefits not just to the environment, but to yourself and to your pocket. It's come to a point where it has become inevitable to accelerate the use of green fuel.
—————————————
Public Transport: Nearest underground station: Holloway Road (Piccadilly line)
Parking: spaces around Holloway road: https://www.justpark.com/uk/parking/holloway-road/
---
Created: Mon, 12/11/2018 - 17:17
Last updated: Mon, 12/11/2018 - 17:19