Students' Union UCL works to ensure that students are represented across all levels of decision making at UCL. There are more than 2,000 student representatives at UCL including Academic Reps, Student Officers, Sabbatical Officers, Student Trustees, Hall Reps and Activities Reps. Find out more information about your elected leaders.
Rep Elections
The Autumn Elections take place in the first half of Term 1, with nominations open from 13 September - 18 October, and voting taking place the following week from 25 - 29 October.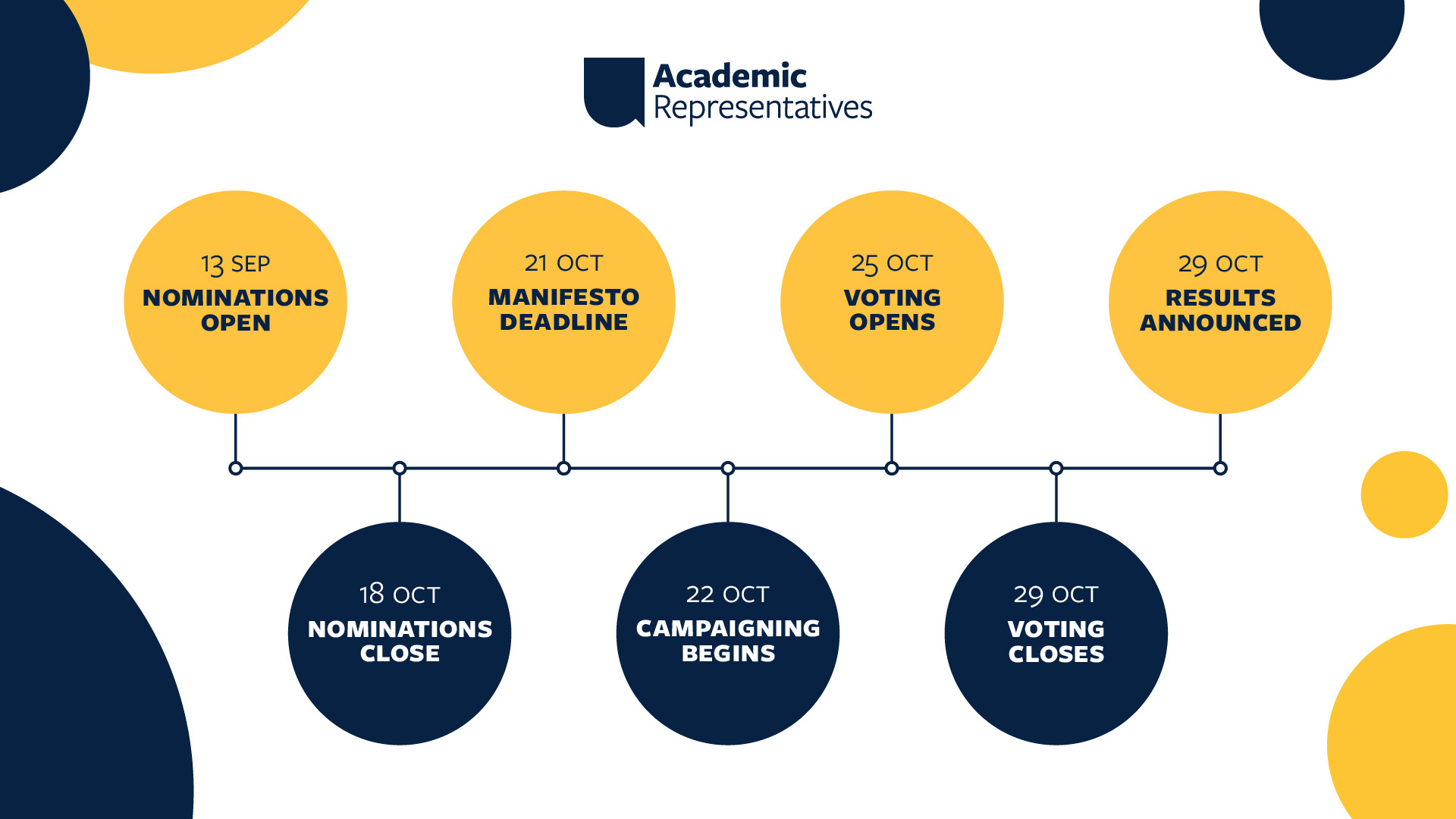 Now that the nominations are in, the campaigning period has started. Keep an eye out for this online and on campus as well and get to know your candidates. Make sure to read the candidate's manifestos so that you can make an informed decision. Voting opens at 10am on Monday, 25 October and closes at 12pm (midday) on Friday, 29 October.
Roles
These elections are for a range of positions which affect your education, extracurricular activity and day-to-day life at UCL; more information on these can be found below.
Faculty Representatives: There is one Faculty Rep per Faculty at each level (Undergraduate, Postgraduate Taught and Postgraduate Research) who represent students across their Faculty.
Hall Representatives: If you live in a UCL Hall, you may wish to represent your neighbours and peers within your Hall.
Activities Representatives: Societies Reps and Sports Reps ensure that our Clubs and Societies members have their voices heard.
Student Trustees: The Board of Trustees is the highest level of the governance structure in Students' Union UCL. Trustees oversee the financial and legal decision-making within the organisation.
Club and Society Welfare Representatives: These Reps are in charge of safeguarding student welfare within their respective clubs/societies.
Volunteering Representatives: In charge of representing students undertaking voluntary work through the Union.
We will also be holding special elections for the following Student Rep positions left vacant in the 2021 Spring Elections:
LGBQ+ Officer: Open to students who identify as LGBQ+, this officer will lead the Union's LGBT+ Network alongside the Trans Officer, in representing the interests of UCL's LGBQ+ students.
Mature and Part-Time Students' Officer: Open to all mature (over 21 when beginning an undergraduate degree or over 24 when beginning a postgraduate degree) or part-time students, this officer will represent the needs and interests of these students.
And keep an eye out for information from your department staff on becoming a Course/Department Rep if you want to get more involved in decisions which affect your academic cohort!
UCL and Students' Union Board of Trustee Elections
UCL Committees: Several central UCL committees have a number of student representatives on them alongside your Sabbatical Officers. If you want to be involved in decision-making at an institutional level
NUS Delegate Elections
NUS Delegates: Each year, students are elected to represent the student body at NUS Conference where more than 600 UK institutions meet to discuss important issues.
Leadership Race (in term 2)
Sabbatical Officers: Our Sabbatical Officers work full-time and either take a year out of their studies or take on the role when they graduate. They represent all students at UCL on an institutional level.
Student Officers: Our part-time Student Officers represent specific student groups and interests across UCL.